This holiday season will be like no other. Because of the COVID-19 pandemic and requirements or recommendations for social distancing, many people are working from home. They might not get to see their extended family or close friends for the holidays in order to avoid large gatherings. And that means losing out on a lot of what makes the holidays so special.
But there are ways to keep doing the things you love during the holidays from afar. The Secret Santa or Kris Kringle gift exchange is historically a favourite among large families, groups of friends, and business colleagues. It's a fun and simple way to ensure that everyone gets a really nice and thoughtful gift and everyone can open them together. How does it work? Each person picks a name out of a hat to determine who they have to buy a gift for, based on a specified price limit. Then, usually at a gathering of some sort, everyone opens their gifts together and reveals who got whom.
It seems like an impossibility this year, but you can actually still pull off a Secret Santa in a virtual world. And it's pretty simple. Here's how.
1.Use a name-drawing website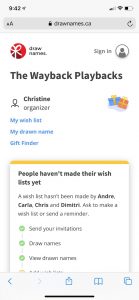 There are plenty of websites and apps that let you draw names electronically. I recently did this with a group of close friends using Drawnames.ca. Create and name your group, select a desired price limit for the gift (make sure to factor in shipping costs), add the names of the participants, and select the method you want to use for sending invites (I used WhatsApp). You can simply share the link and wait for everyone to log in one by one to see the names flash across the screen until it settles on their pick or set a specific date and time for everyone to log in at once and do the draw.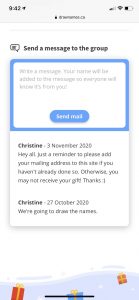 Everyone can add their mailing address to a section on the website, which will be seen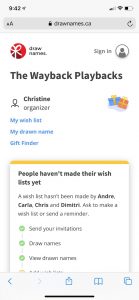 only by the person who picked them. They can also add items to a "wish list," with specially curated ideas provided from Amazon that meet the specified price limit. The organizer, meanwhile, can keep track of when each person has successful picked a name (though you can't see who they picked) to ensure the process is complete.
As the organizer, you can continue to message the group to remind them to do things like add wish lists, enter the mailing address, or to simply spread holiday cheer leading up to the gift exchange day.
2.Ship the gift to the recipient
Since you probably can't or won't be meeting in person, everyone will have to ship the gifts to each person's home.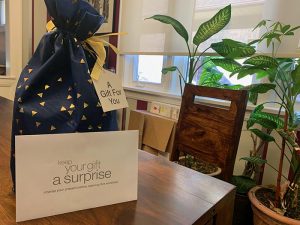 If you order from Amazon.ca, some items do come with a gifting option which will ship the gift pre-wrapped along with a note that says to only open the envelope after opening the gift. (Handy in case you open the box thinking it's something you forgot you ordered on Amazon!)
If you order from somewhere else or pick up a thoughtful gift in a bricks-and-mortar store, you might have to wrap the gift yourself, box it up, then ship via Canada Post or other delivery service. If permitted, like with Canada Post, send a box without a return address but keep your receipt with the tracking number to ensure it arrives safely. But keep in mind that the tracking label on the box will likely disclose the city of origin of the package. So, if everyone lives in different cities, that could also be a giveaway. It's worth mentioning to your participants to try and avert their eyes from anything but the main label so as not to ruin the surprise.
3.Set a date!
Agree on a date and time for a virtual gift exchange party. If you want to make it extra festive, create a theme, like black and white, holiday cheer, or ugly Christmas sweater, and so on to keep a consistent look and get everyone excited. Encourage everyone to dial in with a glass of wine, festive cocktail, or hot cocoa on hand for a virtual toast to the holidays.
4.Do a virtual call
On the day of the meet, send out the Zoom link (or your preferred video conferencing service) then get ready to chat!
Once everyone is dialed in, take turns opening gifts on camera, showing what you got, and revealing who got whom. Once all of the gifts are open, share some good conversation and raise a glass to meeting up when it's finally safe to do so.
What to keep in mind
Make sure to leave enough time for participants to do their online shopping and make use of the most cost-effective delivery method, especially if they're having the item delivered to themselves first to wrap, box, and mail to the recipient via Canada Post. Don't wait until the last minute – set up your virtual Secret Santa in  early December, at the latest.
Consider that a virtual Secret Santa means you can include out of province or even out of country friends in the festivities. If doing so, make sure all participants are okay with the fact that some people might have to pay more for shipping than others.
Bottom line
A virtual gift exchange isn't ideal, but it's a great way for friends or family to be able to enjoy some holiday cheer. Create a fun theme, like gag gifts, to create laughs, or make it more sentimental, asking everyone to buy something for the person they get that reflects upon their favourite memory with the person.
From a business perspective, a virtual Secret Santa is a great way to help foster camaraderie with a team of colleagues who haven't been working together in an office for some time.
Related:
Tech Gifts For Someone Who Just Picked Up A New Hobby