The Entertainment Software Association of Canada (ESAC), which works on behalf of member-companies to ensure that Canada remains a great place to innovate, create and publish video games, recently published its Real Canadian Gamer Essential Facts 2020 findings. This report provides economic, demographic and public opinion data about the Canadian video game industry.
Gaming Industry: Size and Structure
The report summarized 692 active video game companies were identified in Canada in 2019, which represents a 16% increase since 2017. Most companies (55%) employ five employees or less. "In 2019, video game companies in Canada generated an estimated $3.6 billion in revenue from all sources, demonstrating a growth of 15% since 2017…. [though] 76% of this revenue is from markets outside of Canada."
Gaming Research
I had the opportunity to ask Jayson Hilchie, ESAC President and CEO, about this gamer study, and what insight it offers about gaming in Canada, particularly during the pandemic.
Hilchie began, "ESAC regularly conducts research on both the economic contribution and impact of the video game industry in Canada as well as the consumer habits and demographics of players."
"This year our research was conducted by NPD Group Canada, a leader in consumer research," shared Hilchie. "Our objective was to find who was playing games, how much they were playing, what they were playing and what games meant to them, specifically as it relates to the social isolation that people are experiencing due to the COVID-19 pandemic."
Hilchie also explained, "The purpose of this research is to ensure that the impact and importance of the video game industry is quantified and then conveyed to our target audiences, which are government decision makers, media and the public."
The Pandemic Effect
"The games industry in Canada is a major force both economically, but also socially," remarked Hilchie. "Games are really helping people feel good and stay connected, and this research confirms that."
"[During the pandemic], people are playing more games than before," said Hilchie. "58% of adults and 80% of teens who are gamers reported playing more games during the pandemic. This isn't really surprising if you follow media and even social media as games like Animal Crossing have become mainstream social networks."
"I think for me the most important findings are how games are positively impacting people's lives," said Hilchie.
Hilchie reflected on social distancing and its direct impact on in-person gatherings, but noted, "physical isolation doesn't have to mean social isolation and that's where games have really played a role."
"Our study found that 70% of Teen Gamers reported using online video games to stay connected while isolating at home."
"Most importantly, video games are making people feel better," stated Hilchie, and referenced study findings that revealed, "65% of Adult Gamers and 78% of Teen Gamers find that gaming while supporting stay-at-home health measures makes them feel better."
"And, games are helping parents spend more time connecting with their kids," offered Hilchie. "65% of parents who report being regular video game players often play games with their kids and during the pandemic 44% reported playing with their kids more often.  We know that kids and teens are spending more time gaming to connect with their friends and it's important for parents to be aware of their activity and one of the best ways to do this is to actually play with them!"
Popular Games 
"Canadians of different demographics are playing all types of games across all platforms," shared Hilchie.
"Kids and Teens most reported playing Roblox, Minecraft, Mario Kart and Fortnite while older adults most reported playing games such as Candy Crush, Call of Duty, Solitaire and Words with Friends."
"So, you can see there is a broad breadth of games people are playing and that is a good thing."
Added Hilchie, "60% of gamers in Canada reported playing games on more than one type of platform, so they could be playing a game on a phone that may be a casual puzzle, but then also play fully immersive online games on their console," shared Hilchie. "That is interesting and shows how our industry is doing an excellent job of delivering different types of experiences to different types of people where they are and how they want to consume that."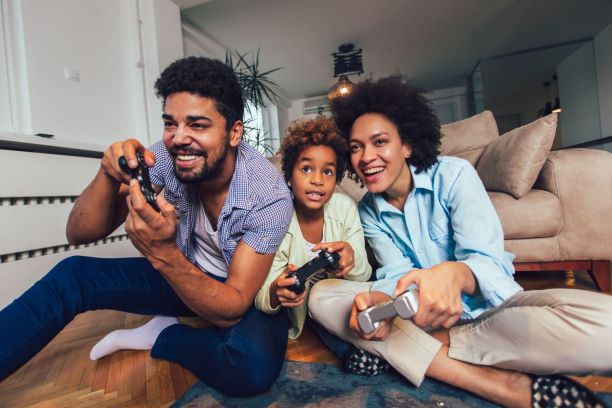 To learn more about the economic and employment impact of Canada's gaming industry, read the ESAC's report, Real Canadian Gamer Essential Facts 2020
Related:
Which Gaming System Is Right For You?
Google Stadia: What Is It And How Does It Work?
Ryerson University Students Advance to Global Stage for Environmental Justice Game