The holiday season is prime time (pardon the pun) for investing in a new television for the family living room – especially this year with people spending more time at home due to the COVID-19 coronavirus pandemic. It's worth it to upgrade to get a better viewing experience for binging your latest Netflix obsession or working your way through a collection of movies, especially if you're still rocking that old early-'00s TV you bought on a killer deal. The good news: the holiday season is usually when plenty of models go on sale.
But the selection can be daunting and the terminology overwhelming. What is the difference between LED and QLED? Do I need a smart TV? And is there is need to upgrade to 8K?
While we could write a novel on the topic, here are a few things to note about the differences among types of TVs and their features, along with tips to help you choose the right one for your family.
From LED to OLED: What Does Each Type Mean?
There are two main types of televisions: OLED and LED. You might also see variations in nomenclature from different manufacturers touting their own versions of LED, like Samsung's QLED, Hisense's ULED, LG's NanoCell TVs, and more. These are all, however, technically LED TVs.
These two main TV technologies are very different.
LED TVs consist of a panel and a backlight with pixels (i.e. tiny coloured dots) that create the image based on where the light shines behind them.
On the other hand, OLED TVs, which stands for organic light-emitting diode, use electricity to produce light and colour from a diode, without the need for a separate backlight.
OLED TVs tend to come at a significant premium in price thanks to their ability to produce brighter images and blacker blacks along with (sometimes) better viewing angles and an overall smoother picture. There's also the option to get creative with OLED technology, creating things like flexible screens, which you can see already impliemented in the latest foldable phones, and even rollable TVs (yes, LG actually offers a rollable TV!)
Keep in mind that many of the latest LED TVs look stunning, so they are no by means a lesser choice. And each manufacturer purports to add unique benefits in picture quality through their own technologies. Samsung, for example, claims that the additional of an overlay of quantum dots over the pixels in its QLED TVs help improve things like brightness and colour accuracy.
That said, if you want the best of the best (and can afford it!) consider OLED. Otherwise, opting for a new-model LED TV from a reputable brand will yield a wonderful picture at a much more affordable price.
HD, 4K, and 8K: Resolution
You've likely been watching TV since the time when standard definition (SD) was common. Then, all the hype was around HD, then 4K (with some chatter about 3D in between), and now, 8K is all the rage. What does it all mean?
The resolution of a picture relates to the number of pixels the TV offers in order to make up the picture you see on the screen. The more pixels you have, for the most part, the better the picture. Consider a drawing on a piece of paper. If you were to place dots within it, spaced apart, it would start forming into a nicely detailed image. The more dots you add, the more detail you can see in the finished product.
Full high definition (HD) resolution (1,080p) is 1,920 x 1,080 pixels, 1,920 x 1,200 for widescreen. Technically, 1,280 x 720 (720p) is also HD but won't yield as detailed and crisp a picture. 4K, as the name implies, offers four times the resolution of standard HD, with 3,840 x 2,160 pixels. 8K kicks things up another notch to 7,680 x 4,320. At this point, however, there isn't really much 8K content to realize such quality so you won't really notice the benefits.
Most TVs sold today at reasonable prices are either 4K or HD. It's wise to at least get Full HD, even if the TV will be in a secondary room, given how affordable 1,080p TVs are nowadays. For a primary viewing room, it makes sense to buy at least a 4K TV to enjoy the step up in resolution. There's an abundance of 4K content available from Blu-ray discs, broadcast television, streaming, and even online. Note that you need a 4K source as well, whether it's an actual disc or an appropriate subscription to the highest-tier streaming. But even if you don't plan to invest in 4K content and sources just yet, getting a 4K TV will futureproof the investment. Plus, most 4K TVs offer upscaling capability, which can improve the picture with HD, and sometimes even SD, content anyway, making them worth the upgrade for that reason alone.
For maximum futureproofing, if your budget allows, don't totally rule out an 8K television. Sure, there's not a lot of 8K content out there just yet. But it's coming. And with an 8K-capable TV from a manufacturer like Sony and its Master Series, you'll be ready for it once it does.
What Size TV Should You Get?
There's actually a simple calculation you can use to determine the right-sized TV for a room, or at least the smallest and largest size you should consider. Measure the viewing distance from the main seating area to where the television will be situated then divide it by three to see the smallest sized television that would fit and divide it by 1.5 for the largest.
So, for example, if your television will be 10 feet from your couch, you could easily get an 80-inch TV (120 inches divided by 1.5), but don't go any smaller than a 40-inch television. Conversely, in a small apartment or room where the distance from the chair to the TV is just six feet, you don't want to overwhelm the room with anything larger than a 48-inch TV and can go as small as 24-inch if you want to spend the bare minimum.
Keep in mind that this you also have to factor in other things, like the resolution of the TV, your eyesight, layout of the room, and so on. So this isn't a hard and fast rule. But use these calculations as a general guide.
Factor other things into the equation when determining size as well, such as if the TV will sit on a piece of furniture, be mounted on the wall or over a fireplace. There are unique TVs like Samsung's The Frame, which can display artwork when it's turned off from your own collection or Samsung's curated selection (subscription required), thus disguising as a piece of art on the wall. If you're going to wall-mount a TV like this, you'll want to consider how it will look in the space when it's off as much as you will when it's on.
Smart Or Not?
You'd be hard-pressed these days to find a new TV that doesn't come with some sort of smart TV interface built into it. That said, if you do subscribe to streaming services or watch a lot of content, you'll want to play around with the smart TV platform to see how intuitive it is, and make sure that your favourite streaming service is pre-loaded or available to download as an app.
Every TV manufacturer has their own smart TV platform with their own set of streaming service partners. (You'll find ones like Netflix on pretty much every smart TV platform. Netflix also gives its badge of approval to TVs that meet its Netflix Recommended TV certification for fast start-up, easy access, and more, which might help sway your decision if you watch mostly Netflix content).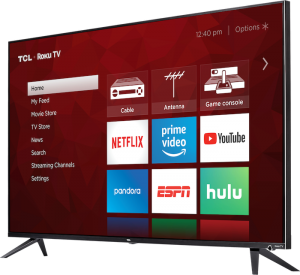 Sony, Hisense, and Skyworth base their smart TV interfaces on the Android TV system while LG has its own webOS and ChannelPlus system, Samsung uses Tizen, and brands like TCL offer Roku TVs. Some TVs offer additional benefits, like AirPlay 2 support for easy access to services like Apple TV+, Google Assistant for calling up TV shows and movies by voice and the ability to "cast" shows from a mobile device, the ability to download other apps, like games, and access your own media libraries.
Keep in mind that if you really need to save money and find a great deal on an older-model non-smart TV, go for it. As long as the TV has an HDMI port, you can buy a third-party media streaming device, like a streaming stick, plug that in, and enjoy all of the benefits of a smart TV. And streaming sticks are available for as little as $30.
Bottom Line
As you search for a new TV, consider that you don't want to skimp on the choice. This piece of technology will likely be a focal point in the room for years to come. It will be used for hours every day by every member of the family. It's better to wait and save up for a bigger or better model than get something now on the cheap.
That said, you're bound to find plenty of great deals during the holiday season that will afford some of the better models for much less. Happy shopping!
Related:
Streaming TV in Canada: What Are The Options? 
7 Great Soundbars For Streaming Audio