Screen time is part of our everyday lives, whether it's using a phone, tablet, laptop, desktop, TV, or, more than likely, all the above. Why add another screen – an e-reader – to the mix? There's actually lots of value in using an e-reader, both in place of a traditional paperback book and instead of a smartphone, tablet, or computer, at times.
Here, we'll look at some of the most noteworthy reasons to consider adding an e-reader to your holiday wish list this year.
1.Conserve Your Smartphone, Tablet, and Laptop Battery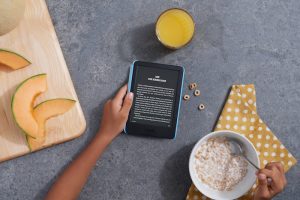 You can download e-reader apps from popular services like Kobo and Kindle to a mobile device, choose free books or purchase ones, and read there. But having a dedicated e-reader means you don't need to use up space, bandwidth, or processing power from your mobile device when you need it for other tasks. And, most importantly, you can conserve your phone or tablet's battery.
Most of the latest phones sport drastically improved battery life when compared to a decade ago. But, as with any electronic device, the more you use and charge it, the more the battery depletes over time. Reading on an e-reader during your commute to the office, lunch break, at the beach, or even in your backyard, will help prolong your phone's battery if it means you'll use it less often. What's more, your phone won't die when you need it most because you read a few chapters of the latest Dan Brown novel.
2.Useful in a Power Outage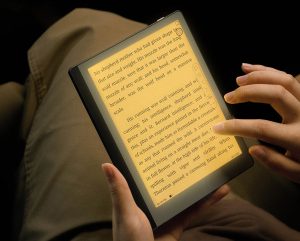 An e-reader is one of the tech devices you should have at home in the event of a power outage. With a battery that typically lasts for weeks per charge, you'll be able to sit back and read without candlelight using eReaders with their own built-in adjustable light, like the BOOX Leaf. If the power is likely to be out for an extended period of time, it gives you something to do. This is especially so if you're alone and don't have battery back-up power for other electronic devices (though that should be part of your power outage tech emergency kit, too!)
3.Great For the Beach or By the Pool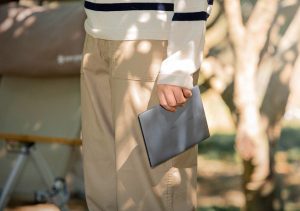 Yes, many phones nowadays are fully waterproof ,or you can buy a waterproof pouch or case. But an e-reader is a great gadget for the beach. Maybe you want to leave your phone in your hotel room or beach bag to free yourself from distractions while you're enjoying a day off or you're on vacation. Or, maybe you're using your phone as a source device to stream tunes to a portable Bluetooth speaker so it's otherwise occupied.
With an e-reader, you can still tan in the sun or relax in the shade with a good book and not have your phone in your hand. They are typically larger than a phone and similar in size to a paperback. With a folio cover and a waterproof model like the Kobo Sage, which has an IPX8 waterproof rating for submersion up to 60 minutes in up to two metres of water, you'll enjoy the experience much more. And you won't have to worry about sand getting into the creases of a paperback book, the pages getting wet from your just-got-out-of-the-water fingers or splashes from the kids, or having to lug some heavy hardcover novels along for the trip.
4.Encourages More Reading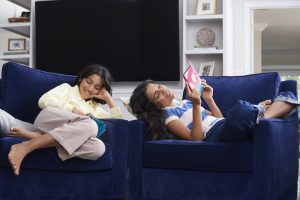 A love of reading is something that should be nurtured, and according to recent data, online reading is on the rise, being supported by initiatives like the Big Library Read program, a global eBook club. While you might be less inclined to bring a selection of books with you in your backpack, briefcase, or carry-on luggage, a single eReader can house thousands of book titles. Keep it in your backpack, briefcase, or even purse, and you'll have thousands of novels at your fingertips virtually anywhere.
From waiting in a doctor's office to be called in, to being stuck at the train station due to delays, or enjoying a quiet lunch, you might find it more appealing to read another chapter of a novel versus mindlessly scrolling through your Instagram feed.
Plus, eReaders like the Amazon Kindle Kids, which is designed specifically for young ones, comes with one-year access to thousands of kid-friendly books, and makes a much better downtime activity for young ones than screen time playing games on a tablet or phone.
5.Better on the Eyes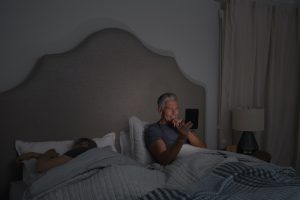 Smartphones and tablets have adjustable brightness levels and you can use a variety of modes to make reading easier on the eyes. But it can't compete with the electronic ink technology used in an eReader, which is designed specifically to mimic the look and feel of actual ink on paper. This will be especially appreciated and noticeable during long reading sessions.
Overall, you'll put less strain on your eyes, especially if you have the brightness cranked up on the mobile device and don't notice. Using dark mode on eReaders like the latest Amazon Kindle make it just as easy to read at night as well without staring at a phone's bright screen, which can impact your quality of sleep once you finally put the digital book down.
6.Declutter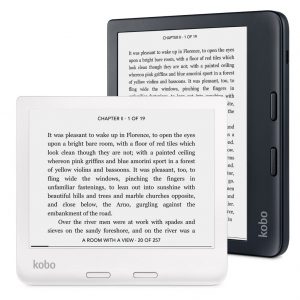 While there's still something to be said for holding a tangible book in your hands, and it's still worth purchasing and collecting a selection of favourite books on paperback, you can enjoy a limitless love of reading with an eReader without worry of creating a ton of clutter. Get rid of all but your most favourite book titles on paperback or hardcover (consider donating them to your local library) and download an electronic version.
You'll soon have a collection of hundreds, potentially thousands, of books you can read on the go in an eReader like the Kobo Libra 2, which can hold more books than you could possibly read in a lifetime in its 32GB of storage space. You'll appreciate having the extra shelf or cupboard space in the home, as well, that you can now use for a variety of other things.  Enter our contest and WIN a Kobo Clara 2E 6″ Digital eReader with Touchscreen.  Approximate prize value $159.99.
-30-
Related:
Laptop vs. Tablet vs. E-Reader: What's Best For Students?
International Women's Day: Bringing Inclusivity to Publishing