IFA is a consumer technology trade show that takes place in Berlin, Germany annually, around late August-early September. Put on by trade fair partner Messe Berlin GmbH, IFA stands for Internationale Funkausstellung Berlin, which roughly translates to "Berlin Radio Show." But most people who attend or know of the event simply refer to it as "eef-a."
Among the many technology announcements made at the show, including developments in 8K televisions, artificial intelligence, and smartphones, were a number of new additions to the growing smart speaker category. A few major brands also launched smart speakers just before the show, capitalizing on the hoopla surrounding all of the buzz in the category.
While Apple and Google have dominated the market for the last year, with Apple recently joining in with its HomePod, several other products have been coming to market of late, like the Sonos One, which works with Alexa voice control (Google Assistant support coming soon), the Harman Kardon Invoke, which works with Microsoft's Cortana voice assistant, the 808 Audio XL-V, and many more.
Strategy Analytics reports in its "Smart Speaker Vendor & OS Shipment and Installed Base Market Share by Region: Q2 2018," report that Google's share in the space, thanks to sales of its Home and Home Mini (and now Max) smart speakers, rose to 28% in the second quarter of this year, while Amazon's share, for devices like the Echo and Echo Dot, dropped for 41% from 44% in the previous quarter. But soon, it will be more than just Google coming to grab a bigger slice of the pie from Amazon.
Here are some interesting new smart speakers and related innovations to watch.
Netgear Orbi Voice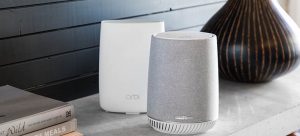 This is arguably one of the most interesting options in the category, in that the Orbi Voice Smart Speaker comes packaged with a router, and works with the Orbi Voice WiFi mesh system. Plus, it supports Amazon's Alexa for voice control, and integrates Harman Kardon audio technology. In addition to providing music and audible replies, it can create whole-home Wi-Fi coverage for a space up to 4,500 square feet in size, at up to 3Gbps speeds. Use the Orbi app to adjust volume and EQ settings, and set parental controls for the network, as well as create separate guest Wi-Fi networks. Each one has two Ethernet ports. A system that includes a router and smart speaker, along with a Wi-Fi Satellite, will sell for US$430 once available in late September.
Marshall Voice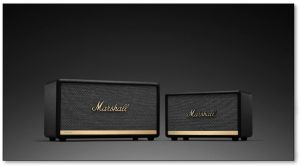 Marshall is known for its classic, great-sounding speakers and headphones that appeal to the music community. But the Voice line will mark the company's first foray into the "smart" speaker world. Two models were announced at IFA: the Acton II Voice and Stanmore II Voice, both of which come with built-in Amazon Alexa support for voice control (Google Assistant support is reportedly coming later this year.) They're rectangular versus cylindrical or vertical like many other smart speakers, employing classic Marshall design principles, including a textured vinyl cover, salt and pepper fret, and the distinct Marshall script logo. The Acton II Voice will be available starting November 9 for US$299, and the Stanmore II Voice for US$399 starting October 2. Both will launch first in the U.S.
DTS Play-Fi Alexa Cast Support
DTS Play-Fi is a technology that allows for lossless wireless audio streaming throughout a home, from a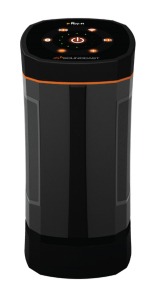 variety of music services. Several brands make speakers that support DTS Play-Fi, but at IFA, the technology company confirmed that it would be adding Alexa Cast support to enabled products that carry the Works with Alexa certification. Alexa Cast allows you to send and control music from the Amazon Music app directly to individual Play-Fi speakers, or groups of speakers. Models are available from a number of brands, including Definitive Technology, Klipsch, Onkyo, Pioneer, Polk, and Soundcast, including the VG10 pictured here.
Bose Home Speaker 500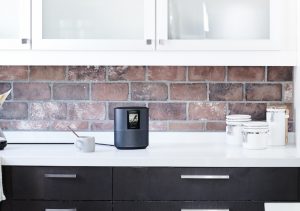 The announcement wasn't made at IFA, but Bose quietly confirmed its entrance into the smart speaker market just prior to the show's commencement with its Home Speaker 500, which features Alexa support for voice control, and support for "other voice assistants to follow;" as well as AirPlay 2 support in early 2019, which would allow for streaming directly from Apple devices. Bose says its proprietary mic technology helps the speakers better hear your voice commands, no matter where you are in the room, even if there are loud noises. It includes both Bluetooth and Wi-Fi, and each speaker can work on its own, or as a multi-room system. Control it via voice, using the app, or physical buttons on the top of the unit. It will sell in Canada for $500.
Samsung Galaxy Home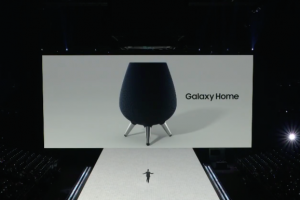 Announced the month prior to IFA, at a special press event, was Samsung's upcoming Galaxy Home smart speaker. While we don't yet known much about the device, we do know that it will leverage Samsung's own digital assistant Bixby for voice control. It reportedly has six speakers and a sub built-in, along with eight far-field microphones that listen for the command "Hi Bixby." Shaped like the top of a wine glass, it sits in three metal legs instead of a long stem, and is wrapped in fabric. No Pinot included. More about the device will be shared at the company's developer conference in November. Stay tuned.
Related: