Walmart Canada has selected TELUS Health's pharmacy management solution (PMS), Ubik, for all of its Accès pharma franchised locations across the province of Quebec.
The province-wide rollout is modernizing 68 locations so patients in Quebec can access more clinical health services while pharmacists streamline operations management and collaborate digitally with other healthcare professionals within a connected system.
"Pharmacists are a key pillar of our healthcare ecosystem and often the first point of contact for patients," began Luc Vilandré,  President, TELUS Health. "The traditional role of the pharmacist is expanding with more pharmacies across Canada delivering a range of innovative services including: medication reviews, chronic disease management, immunization services, and wellness programs."
"Ubik's technology," explained Vilandré, "is helping to modernize pharmacies and increase efficiencies through enhanced inventory management, online prescription management, and messaging and connectivity features with the patient, which is enabling physicians and pharmacists to communicate digitally for things such as online renewals of medications instead of relying on antiquated technology."
What does this mean for the Walmart customer who is consulting with its pharmacists?
"Ubik is supporting the expansion of the scope of pharmacist practice from dispensing medication to increasingly providing clinical support for patients under their care and strengthening their ability to communicate more seamlessly with physicians and other healthcare providers," stated Vilandré.
Ubik "enables digital services between pharmacists and patients by giving patients the power to conveniently access their prescription information online, right from a smartphone," shared Vilandré. As well, "patients no longer need to go into a pharmacy just to access basic information about their medications or order refills." Other functions include print-functionality of past prescriptions, set-up reminders and allowing account sharing with caregivers or family members.
The TELUS Health Ubik infrastructure is on a private network, and security is managed through patient/pharmacist account set-up to "link the right patient record to the right individual," explained Vilandré. Further, "every user is assigned a username and access code, [and] strict access and permission management makes it possible to control, restrict, add and withdraw user access rights based on a person's role." Finally, history of patient activity as well as traceability of all data inputted into Ubik  is securely managed at the user level.
TELUS is also providing University Laval the Ubik  platform to the pharmacy program at the University of Laval. "Educating pharmacy students using the latest technology solutions allows the expansion of their scope of practice including an increase in the clinical guidance provided to patients," said Vilandré. Click here to see how Ubik is being used at Laval U.  Please note video is in French
I then asked, what's next?
Vilandré responded, "PrescribeIT™ by Canada Health Infoway is an ePrescribing service that allows for transmission of prescription information between physicians' electronic medical records (EMRs) and pharmacy management systems such that no faxes or phone calls are required to clarify prescription information which helps to reduce the risk of transcription errors made from manually entering handwritten or faxed prescriptions."
"TELUS Health's goal is to streamline the process of the patient's prescription fulfillment through online-accessible features, so pharmacists can focus on value-add activities aligned with their evolving role. To do so, we are constantly enhancing our online services with new features," Vilandré explained.
"On the pharmacy side," Vilandré added, "we are focusing on innovative features for better medication management including adjustments according to a patient's clinical data, follow-ups, secondary effects, allergies and interactions, drug profile reconciliation, synchronization of prescriptions renewals on a specific date and treatment adherence."
More than 6,700 pharmacies now use a TELUS Health pharmacy management solution across Canada. "While the next generation Ubik platform is primarily dedicated to the Quebec market, Walmart pharmacies in other provinces have already standardized on TELUS Health's innovative Kroll pharmacy management solution, which has been in the market for more than 30 years."
Said Vilandré, "at TELUS Health, innovation means leveraging the power of information and technology to work towards one goal: enhancing health experiences for Canadians and their care teams, and improving health outcomes."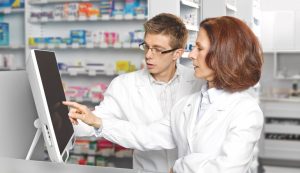 Vilandré added, 'We are revolutionizing access to primary care through the delivery of patient-centred solutions for mobile devices; and since 2014, close to 7,500 vulnerable Canadians in marginalized communities across the country have benefited from our Mobile Health Clinics so they can receive primary care where and when they need it the most."
Related:
Healthcare by Smartphone in British Columbia