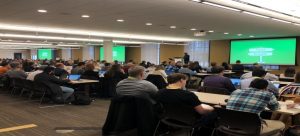 Last month, Zoho hosted its Zoholics Canada event, which welcomed more than 450 customers across the country to Toronto for two days of keynotes, educational sessions, and 1:1 briefings with senior Zoho executives. Zoho One is a unified operating system —from sales and marketing to finance and HR to operations, and more. Since its launch two years ago, Zoho One has evolved to now include dozens of applications with built-in services including AI, business intelligence, messaging, search, for example.
"Customers and partners enjoyed a keynote address from our Chief Evangelist, Raju Vegesna, as well as breakout sessions dedicated to sales and marketing, finance, HR, and custom applications," explained Chandrashekar LSP, chief product evangelist, Zoho  Canada."We had over 250 one-on-one sessions in which attendees could sit with Zoho employees, in from all over the world, and get advice on business strategies and specific products."
Zoho, a privately held company with 50 million users and 10 data centres in operation around the world, also announced its achievements to date in the Canadian market, noting that Zoho operates in 180 countries.
"We have more than 20,000 customers in Canada," began Chandrashekar LSP. "Zoho's growth in the country—nearly 40 percent year-over-year—exceeds that of the United States. This statistic makes sense considering that some 97 percent of businesses in Canada are SMBs."
"SMBs," added Chandrashekar LSP, "are attracted to Zoho One because it's a flexible solution that can be deployed across diverse industries, allowing them to run their sales and marketing, bookkeeping, HR, and every other part of a business on one system, all without breaking the bank."
"Zoho makes more than 45 different business applications, and so our Canadian customers are as diverse as our software portfolio," claimed Chandrashekar LSP.
"Companies like the Delphi Group, HockeyTech, Cofinia, Arctic Spas, and Wessuc are all Zoho One customers in Canada, for instance, but their business goals run the gamut from providing environmental sustainability consulting to streaming hockey games," said Chandrashekar LSP.
Quebec-based accounting consultancy Cofinia has been a Zoho customer since 2017, and leverage applications such as Zoho Books, Expense, CRM, Projects, Checkout, Cliq, People, Recruit, and Analytics.
"We stand out from other accounting firms because we are deeply involved in the day-to-day financial management of our customers' businesses …," began Marie-Andree Giroux, CEO of Cofinia. "As our business grows, we need a software solution that can help us save time with automation and integration, while providing access to powerful, live data reporting for our clients. Zoho's software and support have helped us gain incredible insight about our own business as well as our customers, without the pain of thinking about data modelling, synchronizing data, and other complex processes that get in the way of running our core business."
Where's the 'magic' one might wonder?
"There is a direct correlation between Zoho's 40+ percent year-over-year growth in Canada and the growth of business in general in the country," said LSP Chandrashekar, Chief Evangelist, Zoho Canada. "As new organizations steadily pop up and continue to grow here, CEOs and founders and even CIOs want to focus their energy on driving momentum in their industries, not on complicated and often pricey software decisions. Zoho allows for this, and what we are seeing in terms of growth in Canada is evidence of it."
Zoho employs more than 8,000 employees and is headquartered in Austin, Texas with international headquarters in Chennai, India. Additional offices are in Pleasanton, California (U.S.); Renigunta, India; Tenkasi, India; Yokohama, Japan; Beijing, China; Singapore; Queretaro, Mexico; Byron Bay, Australia; Utrecht, Netherlands; and Dubai, United Arab Emirates.
Related:
From Project Management to Communications: Apps For Business
AI Powers Productivity in Cloud-based Business and Office Software Suite