As remote working continues for many, it is interesting to see how technology is changing to assist work-related interaction.
Zoho recently announced, for example, that its global workforce is leaning heavily into chat functionality with a 225% increase in messaging use while also experiencing a 1200% increase in calls per day.
"Remote workers had already generated a significant spike in usage of our chat platform," said Raju Vegesna, Chief Evangelist at Zoho, "so we did what made sense and brought the office inside Cliq."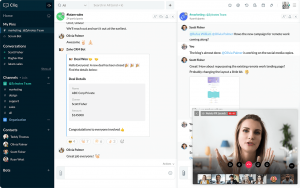 Remote Work Tools on Cliq is a newly enhanced version of its chat software that allows employees to check-in to work, greet co-workers, and interact as they would at the office, no matter where they're working from.
A big part of its goal was to bring the 'in-office' experience home for improved team morale, collaboration and productivity. And, teams also have flexibility to build their own tools with widgets that integrate with users' everyday apps.
Explained Chandrashekar LSP, Zoho's Canadian evangelist, "Zoho Cliq is a team chat software, built to connect you with your colleagues, no matter where you are. Be it real-time messaging, group messaging, group audio and video calls, Zoho Cliq makes it a breeze. Cliq automates simple workflows and enhances team collaboration through conversational bots and re-imagines the way your team works."
"Being a remote worker myself," shared Chandrashekar LSP, "I use Zoho Cliq extensively to connect with colleagues across the globe. While emails and project management tools take care of the more organic activities, the instantaneous communications get left behind, and this is where Zoho Cliq scores. The last-minute validation before you go live with your code, the tweet that screams for attention, the PO approval from your supervisor—Zoho Cliq has your back."
Added Chandrashekar LSP, "Data encryption in transit and at rest and with GDPR compliance to boot, Zoho Cliq guarantees peace of mind."
I asked Chandrashekar LSP why its remote work tools have been so well-received to which he responded, "These are unprecedented times, and businesses have had to dig deep to respond to the challenge. Adapting work to keep up with the problem has meant that companies have to bet hard on technology, and thankfully the technology landscape has provided a variety of tools for businesses to choose from—ones that best suits their needs."
Its customers are appreciating its enhanced chat functionalities as well.
"We wanted to move from SMS to a messaging software that let us collaborate easily in groups and across departments. Cliq has so many great features it made the transition from SMS smooth for all of us," said Audrey Coppock, Engineer at Ambrose Solar. "We could see a swift increase in our team's productivity, especially with the bot bringing in updates about deals and leads in CRM."
Zoho has a "commitment to be the Operating System for Business," said Chandrashekar LSP, and currently offers more than 45 business apps.
"We anticipate that number to grow and have a concrete roadmap for future releases, shared Chandrashekar LSP. "Specifically, in the context of remote work, we are looking to add collaborative white boarding and a more immersive experience."
#      #     #
Related:
Zoho Platform Growth in Canada Credited to Robust Canadian SMBs