In the first four  parts of this series, we've looked at how you can make the kitchen, living room, basement and backyard smart. Here, we'll look at the room you likely get the most relaxation in: your bedroom.
You might think that the bedroom is off limits for tech smarts beyond potentially a television, a basic clock radio, and a charging cable for your phone to sit on your nightstand, right? Wrong. There's plenty more tech you can add to make your bedroom an integral part of your smart home.
Here are some ideas.
Amazon Echo Spot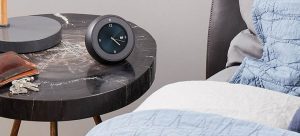 By now, you're familiar with Amazon Alexa-enabled products that permit voice control, like the Echo and the Echo Dot. One of the latest additions to the family is ideal for the bedroom. Called the Echo Spot, it includes all of the same functionality as the other Echoes, including the ability to respond to voice commands and inquiries, but adds a small screen as well. You can use this screen to view the weather and time to get your day started right, as well as watch news briefings. Additionally, make video calls from the device. With the Drop In feature, you can also use the Spot as an intercom to let your significant other know that you'll be down in a minute and to pour you a cup of java, and let the kids know that it's time to head up to bed. $170
Ecobee Switch+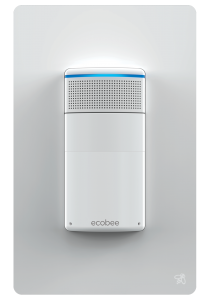 There's nothing worse than getting cozy and comfortable under your duvet, then realizing you forgot to turn off the lights. This smart light has far-field voice technology and works with Alexa, as well as Apple HomeKit, Google Assistant, SmartThings, and IFTTT, so you can shut it off without having to lift a finger, or a leg, out of bed. If you don't have a voice-controlled light, you can also use your smartphone to control the Switch (let's face it, we know your mobile phone is charging on your nightstand right next to you!), or set motion and daylight sensors. $119
Mysa Smart Thermostat
If your bedroom has an electric baseboard or fan-forced heater, you can use this smart thermostat to control it. The device, which was designed in Canada, works with a smartphone app (Android or iOS), or can be controlled by voice using Alexa. If you find your room is too cold or hot, turn the temperature up or down from your phone. You can also lock in a specific temperature if you find the right one for your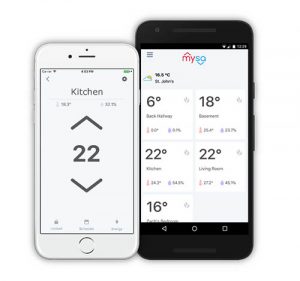 nightly slumber, or set schedules, so the room heats up right before you head to bed on cold winter nights, or cools down in time for you to tuck in for a warm summer eve. It will even detect when no one is home and lower the temperature to help you save on those expensive electricity bills, and keep your home running efficiently through all four seasons. $125; get more than one for reducing pricing.
Magnasonic CR64 Alarm Clock Radio
Rather than have a basic clock radio on your bedside table, opt for something a bit more high-tech that will provide features beyond what you could get from your smartphone. With this one, a Time Projection feature, as the name implies, projects the time on the wall or ceiling so you don't need to roll over and tap a button to see if you missed your alarm or just awoke from a bad dream in the middle of the night.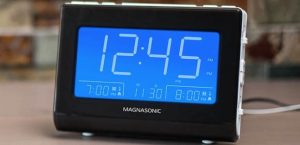 A built-in USB charger can also recharge your smartphone or other mobile devices. Program a wake-up time, and set separate schedules for both you and your partner. If there's a power failure, the device will keep going thanks to its back-up battery, so you won't miss that important morning meeting or oversleep. $46
GE HomeKit-Enabled Window Air Conditioner
With the temperatures in Toronto having surpassed those of places like Jamaica during the Canada Day long weekend, air conditioning is on everyones' minds. This handy window air conditioner, which can be installed in your bedroom window, can be controlled via an iPhone using the Apple Home app and Siri voice assistant. Tap a button to get the cold air flowing, or simply ask Siri to turn it on to enjoy the 8,000-12,000 BTUs of cool from the Energy Star-compliant small appliance. You can also set it on a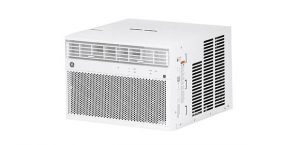 schedule so it turns on or off at the same times every day, or trigger it to turn on a half hour before you return home after a long night out. To use it in the home, you need an Apple device, like an iPhone, iPad, or Apple Watch. Using it for remote control will require a HomeKit home hub, like the HomePod, a 4th generation Apple TV, or iPad with the latest iOS.
Related:   Check out our other Smart Home     articles