May is Mental Health Awareness Month, a time to reflect on your mental wellness alongside your physical health. Mental health has been front and centre all year 'round, especially nowadays as people suffer from burnout due to their jobs and personal priorities, anxiety about the future, and even depression.
When it comes to feelings of anxiety, it's important to speak with a professional if you believe that the issue is serious, or even as maintenance therapy through your day-to-day life. But there are also things you can do to help calm your mind and soul, and help relieve stress and anxiety as well.
Ways to Unwind
A great way to de-stress is to find an activity that helps you unwind after a long day, to get your day started, or even as a mid-day break. I touched on various tech items that promote wellness and relaxation in a 2022 holiday wellness gift guide, and all these items fit the bill. Something as simple as listening to music or a podcast, watching TV, or reading a book can help. With an eReader on hand, you can immerse yourself in a novel from virtually anywhere without having to bring a selection of heavy books along with you. For some, more intense activities are what helps them unwind, like exercising (with a good pair of sports headphones) or even video gaming.
The most important thing is to find an activity that brings you joy and set aside time each day to do it. Forget about all your responsibilities for a few minutes each day and unwind the way that works for you.
Ways to Rejuvenate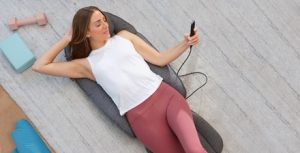 Pampering yourself is a key strategy to focus on your mental health. That all important "me time" is more important than you might realize. You can sit back with a relaxing massage using a home massager from a brand like Homedics, or take a trip to the salon or barber shop. Maybe you want to lie down and relax with a white noise machine or aromatherapy device.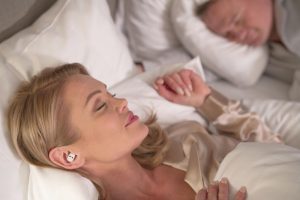 As the saying goes, when you look good, you feel good. Going to get your hair or nails done, making a one-hour massage appointment, playing golf, or going fishing can really help re-centre your mind.
Ways to Find Calm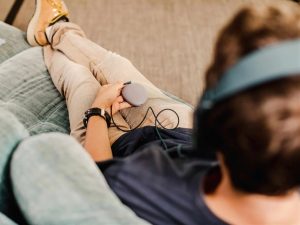 While ironically, technology is what might add to your stress as you try to keep up with a multitude of e-mails, messages, and projects, there are tons of tech devices that are designed to help you find calm as well. The Morphee Zen, for example, introduced at CES 2022, is a pebble-shaped device that is designed to help manage anxiety, stress, and insomnia. It offers themed sessions with soothing sounds, music, and voice therapies. It's designed to help you find calm in just five minutes while still being discreet.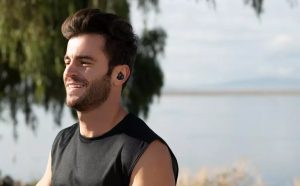 The Reflect Orb is a similar device. It's larger and orb-shaped (about the size of an Amazon Echo Dot smart speaker), as the name implies, and works alongside your own playlist of calming sounds or music. Hold it in both hands and focus on guided meditation or concentrated breathing. It illuminates as you go through a session and provides biofeedback in real-time about your physiology, including how stressed or calm you are throughout the process. Tune out the world and relax for a few minutes.
Speaking of sleep, a good pair of sleep earbuds can help you find calm at night, eliminating restless sleep because your mind is going a mile a minute or too many distractions impact your ability to get a good night's rest. There are options like the Bose SleepBuds II and the QuietOn 3.
There are also apps focused on mental health, many of which I covered previously in an article on mental health apps. Many work alongside a smartphone, but there are others that work with or are built into smartwatches so you can discreetly access them right from your wrist. With the Apple Watch, for example, you can select from a variety of meditation exercises with a Fitness+ subscription, ranging anywhere from five to 20 minutes. The Watch, like others, also has guided breathing exercises and even a one-minute relax exercise that encourages you to think of something positive then relax your body and mind for 60 seconds. Set aside time to do this at least a few times each day to help bring you some calm.
Positive Outlets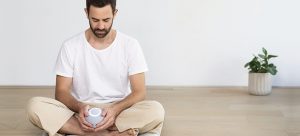 Everyone should have a positive outlet, something they do that helps them feel better every day. It might be sitting in front of the TV to watch a joyous TV show, even a guilty pleasure reality show. Maybe it's crushing candies on your phone for 15 minutes a day. It might be doing a 10-minute yoga exercise, or an intense 30-minute HIIT or cardio workout. It could also be going for a morning or evening run with a pair of good earbuds like the Shokz OpenRun, or working away at fixing or building something in the garage.
Whatever it is, find that positive outlet and retreat to it whenever you feel the need. As long as it isn't harmful to you or others, and promotes positivity and joy, go for it!
Meet With People
We were cooped up for so long due to the pandemic that many of us are craving human connection more so now than we ever did before. Make time to go out with friends, family, or even on your own to do something fun or relaxing every now and then. Set up a standing night out with friends, for example, at least once a month. Even if it's for a short Sunday brunch or Friday night beers, it's good for the soul.
If obligations, distance, or schedules make this difficult to do, or if you don't feel you have a close network to lean on, remember that you are never alone. Teenager Aryan Vasa was recently highlighted in Global News for his ingenious idea: once a week, he invites random teenagers to a virtual conversation via Instagram Live where they sit across from one another and chat via Zoom while having dinner. Those who aren't comfortable being on camera can contribute to the chat via text. He created it early in the pandemic with the goal of helping other teens feel less lonely. He found that many had stresses due to school or their personal lives and felt lonely and depressed. The connection he provided with these weekly meetups did wonders and attracted more than 500 teens to the project.
While Vasa's initiative is designed specifically for teens, you can find a group, club, or individual who is open to this idea, or even start your own. Invite someone for a virtual dinner and share great conversation. Who knows, a true friendship could be ignited, leading to an eventual meet in person. Make sure, of course, to use trusted sources to find these individuals, like reaching out to acquaintances or even people who work in the same industry and have like-minded concerns and stresses. There's no shame in seeking out meaningful, human connections.
How Employers Can Help
Happy and less stressed employees are better employees all around, so it's important for employers and businesses to do what they can to help foster positive mental wellness. This goes beyond offering coffee machines, wellness spaces, and gym facilities in the building. It means actually listening to employees' needs and taking action.
Periodically check in with employees to see if burnout is an issue and if so, find out what you can do to help. With the mass lay-offs occurring across the board, especially in the tech space, it isn't uncommon nowadays to find employees doing the work of two, even three or four people. This isn't a sustainable practice and will harm the business's bottom line in the long run. It's important to figure out a viable solution to keeps the wheels turning before deciding on mass lay-offs that negatively impact the employees who remain as well, not just the ones who were let go.
Give employees the latitude to take personal and sick days when needed. An employee should never stress about having to stay home with a sick child, missing an appointment because they can't leave the office early, or driving in inclement weather because of work policies. Consider the implications of strict in-office strategies on not only productivity, but also the mental health of employees.
It's important to take care of your mental health all year, but the month of May is bringing special awareness to the topic. Use this as a kicking off period for new personal mental health initiatives and keep them going all year.
Related:
Holiday Gifts That Promote Wellness and Relaxation
Wearables, Biosensors, Neural Implants: Not for Roulette, But Health and Wellness
Music, Memory and MP3 Players: Therapy for Mental and Physical Health