Provinces like Ontario have speculated that we might be able to go back to living mask-free by March 2022, which means the worst of the pandemic might finally be behind us. With that said, even if things return to "normal" there are a lot of changes people will be employing going forward as a result of habits they adopted over the last close to two years. These trying times also shifted priorities for some and created new needs for others.
Because of this, some of the tech product categories that are predicted to be hot this year might not look like they did a few years ago, and they won't necessarily be the same product categories that were growing like wildfire during the pandemic. When it comes to the products that are recurring holiday top-sellers, this holiday season, they might be sought out for different reasons and motivations.
Here's a rundown of the tech categories we expect to be big this holiday season.
Air Purifiers
While people started to look more seriously at air purifiers once talk of viruses and bacteria floating in the air became a bigger concern because of COVID-19, their benefits for everyday use are now being fully realized. Air purifiers help keep the air clean in your home from volatile organic compounds (VOCs) of all kinds, like dust, mold, pet dander, smoke, and other potentially harmful substances. For someone living with allergies, an air purifier is a great addition to the home. There are plenty of options, including smaller air purifiers for the home office to larger ones that can cover bigger rooms, or even double as hot and/or cold fans, or even humidifiers.
Streaming Sticks
Since pretty much any TV on the market these days is a smart TV, affording access to popular streaming services like Netflix and YouTube, what's the point of using a streaming stick? Aside from coming in handy for the old TVs you're still hanging onto (at the cottage or in the basement, perhaps?) you can get a more intuitive interface and potentially better-quality experience with a premium streaming stick. The Roku interface, for example, is widely popular for its ease of use. Plus, it affords access to plenty of other channels and content you won't get from any smart TV. Because of their affordability, streaming sticks make great gifts for those on a budget, or ideal stocking stuffers. And they're the type of gift that almost anyone can, and would, use, even if they might need a bit of help to get started. If there's a specific service you are interested in from the many streaming services available in Canada, select the streaming stick brand based on which ones include access to it. Roku, for example, offers content from the service formerly known as Quibi, branded as Roku Originals, along with channels like CBC TV, Funny or Die, Cheddar, and This Old House.
Enter our Contest and win Amazon Fire TV Stick Lite with Alexa Voice Remote Lite
Soundbars
With people spending more time at home binge-watching TV during lockdowns, they might have noticed that the sound quality from using a TV on its own doesn't quite do the trick when you're watching a high-action movie, thrilling drama, or immersive sporting event, or playing video games. Some rooms, however, aren't large enough to accommodate a full 5.1 or 7.1 sound system, nor do some budgets allow for such a big investment. The solution? An affordable soundbar. A category that was once frowned upon by audio stalwarts, you can now get pretty good soundbars that rival full speaker system by mimicking the concept of 360° sound. They don't take up much space, mounting neatly under the TV, and there's a model for every budget. With Bluetooth or Wi-Fi, they can also double as speakers when you just want to listen to music. It's no wonder this category will likely see an uptick through the holiday season.
Big-Screen TV
Along with the increase in TV binge-watching comes the realization that maybe your old TV from the early 2000s just isn't cutting anymore. Or perhaps you realize the 40″ TV that once looked perfect for the room doesn't rival you friend's 65-incher when the buddies come over to watch the game or girlfriends pop in to binge the latest Netflix sensation together. Nowadays, there are some amazing TVs 65 inches and above that can make a world of difference, not just in size but also picture quality, clarity, motion improvements and enhancements thanks to higher refresh rates, 4K and upscaling, and more. Check out our handy TV buying guide for tips on selecting right TV.
Fitness Tracker, Smartwatch, or Fitness App Subscription
In year's past, a fitness tracker or smartwatch might have been a way to keep in touch with the office or family and friends while on the go, or to remind you to get up and move, and try to get to those 10,000 recommended daily steps. Nowadays, people, and the latest devices, are taking a more holistic approach to overall health and wellness. This includes a focus not just on activity and sleep, but also mindfulness, reducing stress, managing heart health, and increasing exercise. Indeed, many people picked up exercising this year, so chances are there will be growing interest in activity trackers and smartwatches that can help. For those who already own and love one, another popular gift might include a subscription to a popular exercise app to help further motivate them to reach their health and wellness goals.
Enter for your chance to win  a Fitbit Inspire 2 Activity Tracker with Lunar White Band
True Wireless Earbuds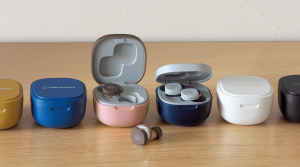 One of the fastest-growing categories in tech these days, according to Statista, worldwide unit shipments of true wireless earbuds rose from just 15 million in 2016 to 110 million in 2020. Even the jump from 2019 to 2020 was significant, with shipments in 2019 sitting at 78 million. It's not surprisingly because generally, people want to be free of wired tethers, and true wireless earbuds make this possible on the go. They simply pop into your ears and fit securely, no wires or headbands needed. The market is flooded with models at every price point from every brand. To find the right one for you or a special someone on your list, check out our tips on 6 important features to look for in a pair of true wireless earbuds.
Enter for your chance to WIN one of two Skullcandy's Newest Dime True Wireless Earbuds
-30-
Check out our gift guides for more tech gift ideas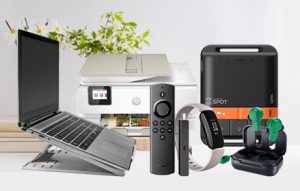 Enter  our contests to  win a prize from one of these hot categories .